Our custom 5S Cleaning Stations are designed to your needs, we don't sell standard or generic shadow boards like other companies. We work with you to design cleaning stations for all the different areas of your process or plant. Each one can be different with color choices, headers, and tool choices.
The key is that they are appropriately located and hold all the necessary cleaning equipment, so any missing or damaged tools are quickly noticed and can be rectified.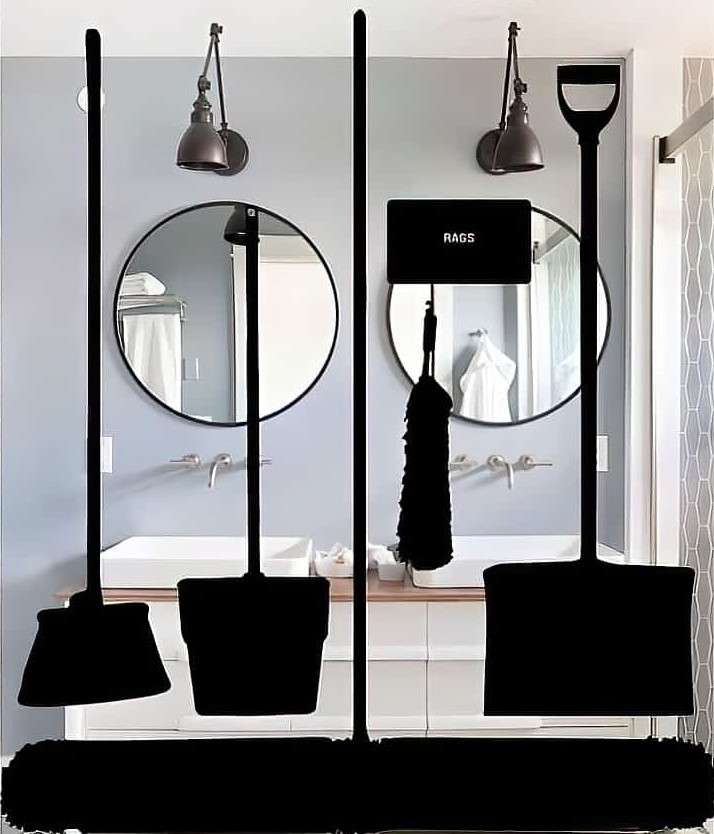 Bespoke Solutions For Your Business
Our Cleaning Stations are best than the rest due to their superior durability. Here at Lean5s, we sell cleaning station solutions tailored to individual business needs. With us, you have a choice to select from a variety of tools that serve as a perfect fit not just regular-made designs.
We also present standard tool selections to pick from. So, being our customers, you can easily find everything required for the general housekeeping needs of most businesses. More to that, our cleaning tools are made of high-quality industrial-grade material that is suitable for not only use in food factories but also and other industrial environments.
Why Implement
Cleaning Station Shadow Boards?
1).

A Place For Everything, And Everything In Its Place
Don't you hate it when you don't have the right cleaning tools? But wait, there is a better way! Cleaning stations solve all these problems. 
By setting up cleaning stations, you can ensure that you always have the right tools available, in the right place, at the right time. This saves you valuable time, money, and effort.
2).

Improved Accountability
Cleaning stations play a pivotal role in better management and control of equipment. They help avoid missing equipment by instantly identifying them and making sure it is returned or replaced on time.
The implementation of Cleaning Station Shadow Boards helps companies save money in the long run, by increasing productivity and efficiency.
It is done when only one central cleaning station is utilized. Thus, employees share equipment and work together efficiently.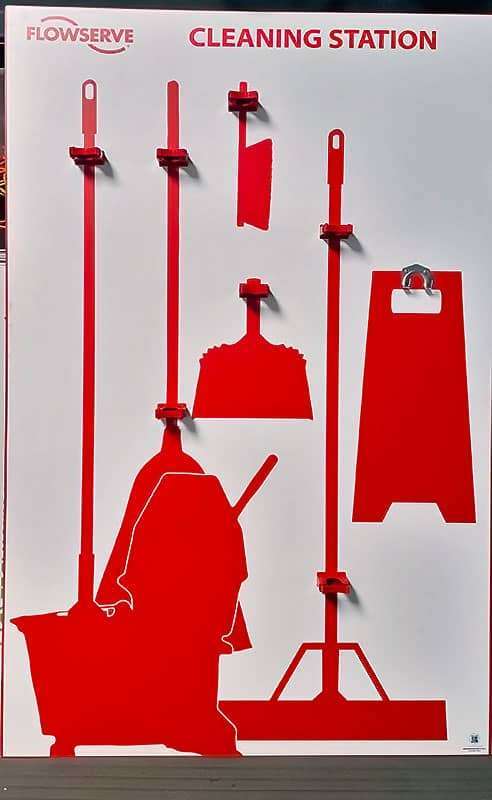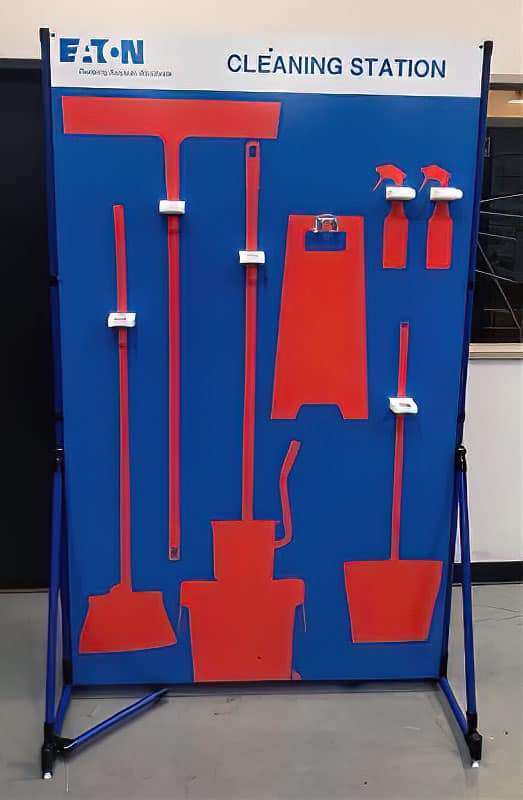 Cleaning stations play a key role in maintaining a sanitary workplace. They prevent equipment and tools from wandering to the wrong location, whether it's by department, production line, or industry-specific segregation such as allergens.
By implementing cleaning stations, you can keep your operation organized and make sure everything is in its proper place.
Cleaning stations are a game-changer as they place necessary tools right where they're needed, making compliance easy and winning staff buy-in. So, there's no reason why you shouldn't consider implementing them.
6).

Continuous Improvement
Having a cleaning station not only encourages a culture of care and accountability among employees, it also increases their engagement. This is critical to the success of cleaning programs.
7).

Facilitates Quality Control
Cleaning Station Shadow Boards enhances quality control by streamlining and organizing the cleaning process.
When implemented effectively, the boards ensure that all the necessary cleaning tools and equipment are available and accounted for.
Our cleaning Shadow boards
Combining colour-coded tools with cleaning stations is a match-making key to a successful 5S solution. And when it comes to colour coding, Lean5s leads the way. We offer an exclusive range of customized color options based on your needs. Not only this, but we also offer a wide selection of cleaning and small production utensils to match your specific needs. Thus, you can trust us to provide the highest quality equipment for your tasks.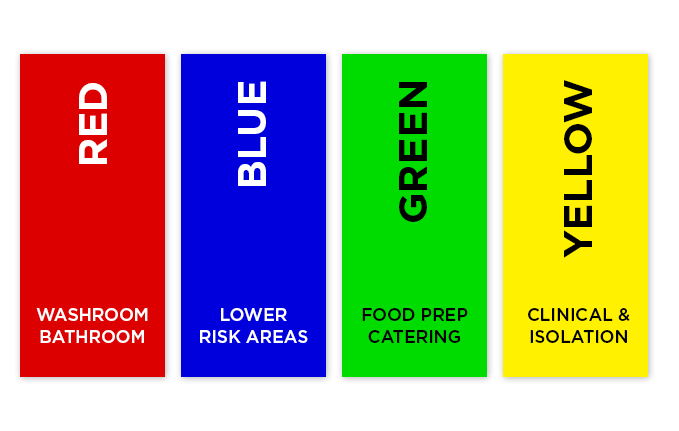 Revolutionize Your Workplace Efficiency with Lean 5S Products
Unlock Organization and Visual Management with Cleaning Shadow Boards.
We make no compromise on the quality of our cleaning stations. That's the sole reason our products are trusted worldwide. They are known for their ability to withstand tough working conditions in diverse industries. 
Industries ranging from auto and plane industries to food manufacturing and retail. This reputation for exceptional durability is why Leans 5s cleaning station is a preferred choice for reliable use.